Mateusz Bień
composer/kompozytor
Music 

Contemporary - but not experimental. Polystylistic - but not a 'collage'. Classical - but contemporary. Electronic - but as a part of acoustic. Computer-aided - but under a control of expression. Only this kind? No!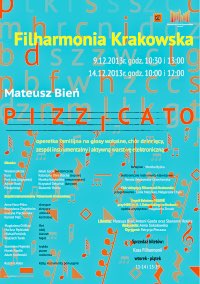 "Pizzicato" Poster
Chamber music
Sonata listopadowa (November's sonate) (vn. vc. pf.)
Suita karnawałowa (Carnival suite) (sxf.)
Toccata (2 ar.)
Linie (ar)
Figury płaskie (Plane figures) (2vn. vl. vc.)
Scherzo (fl. pf.)
Vcellino (vc. pf.)
Rev.: Q4.2017
With Electronics
Turdidae (elect.)
Retroplexis (elect.)
Rew.: Q4.2017
Symphonic etc.
Li¶cie (Leaves) (ork.)
Cracantus (ork.)
Sinfonia da camera (ork.)
Rew.: Q4.2017